BrainCog · Brain-inspired AI models
BrainCog is aimed at providing infrastructural support for specialized, generalized Brain-inspired AI. Currently, it provides cognitive function components that can be classified into five categories: Perception and Learning, Decision Making, Motor Control, Knowledge Representation and Reasoning, and Social Cognition. These components collectively form neural circuits corresponding to 28 brain areas in the mammalian brains. These brain-inspired AI models have been effectively validated on various supervised and unsupervised learning, deep reinforcement learning, and several complex brain-inspired cognitive tasks.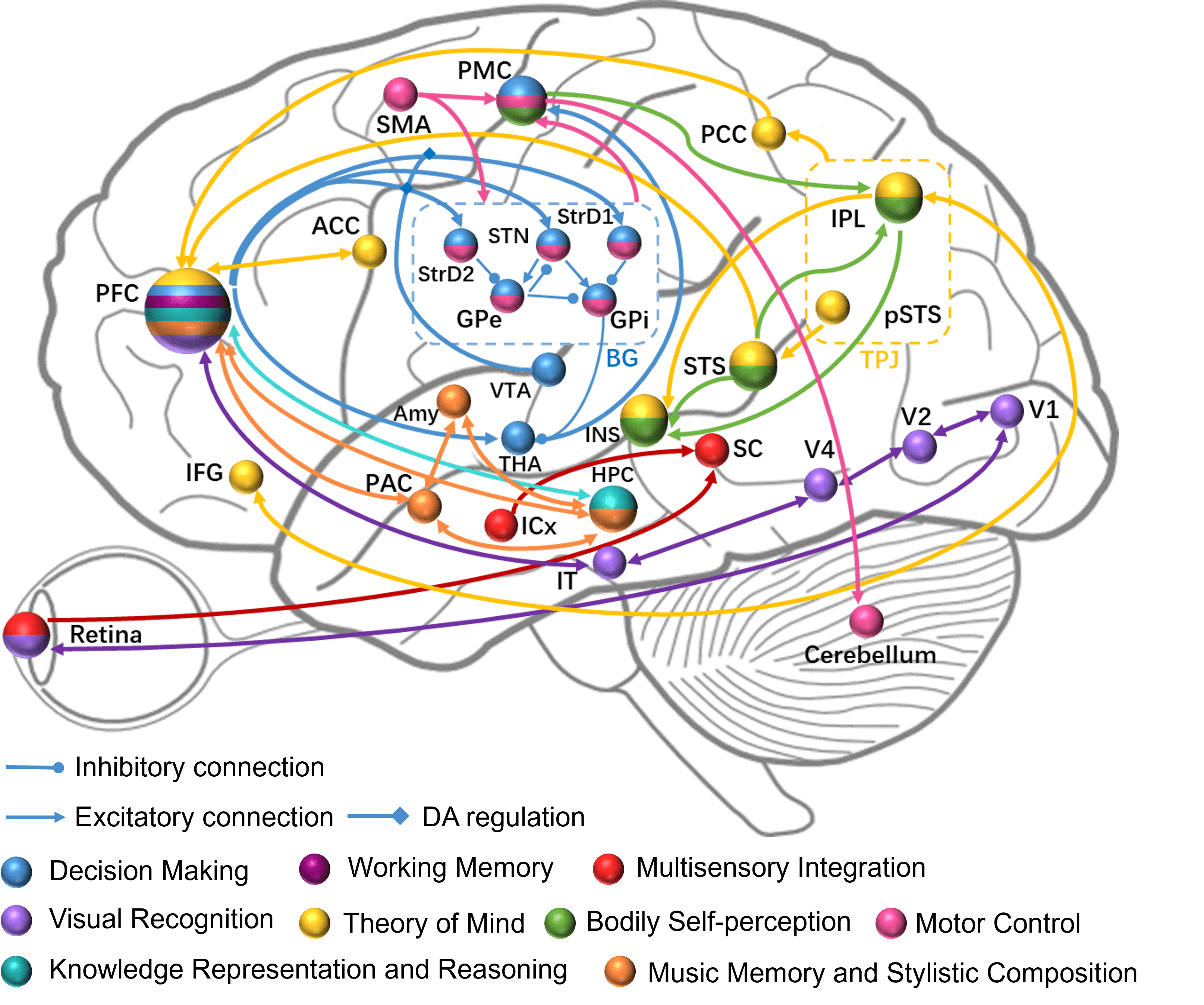 Perception and Learning
BrainCog provides a variety of supervised and unsupervised methods for training spiking neural networks, such as the biologically-plausible Spike Timing-Dependent Plasticity (STDP), the backpropagation based on surrogate gradients, and the conversion-based algorithms. In addition to high performance in common perception and learning process, it also shows strong adaptability in small samples and noisy scenarios. BrainCog also provides a multi-sensory integration framework for human-like concept learning.
The SNN with the combination of feedforward and feedback connections implemented by BrainCog, which introduces a global error signal through feedback connections, improves the performance and stability of local optimization rule-based SNN on deep network structures, achieving comparable performance with the backpropagation algorithm.
Biologically Plausible Spatio-Temporal Adjustment algorithm implemented by BrainCog enables training of deep SNN models and demonstrates advanced performance and low energy consumption compared to other SNNs for image classification tasks such as MNIST, CIFAR10, ImageNet, and event classification tasks such as DVS-CIFAR10 and DVS-Gesture.
The ANN-SNN conversion model based on BrainCog fully combines the advantages of backpropagation algorithm and SNN, enabling SNN to perform comparably to ANN in tasks such as image classification, target detection and semantic segmentation with less energy consumption and higher efficiency.
The unsupervised SNN model based on STDP constructed using BrainCog greatly improves the network performance and efficiency by integrating biologically plausible optimization algorithm and various adaptive mechanisms. It achieves better performance than ANN with the same model structure under a small number of samples.
Decision Making
BrainCog provides multi-brain areas coordinated decision-making SNN model and deep reinforcement learning SNN.
BrainCog implements a biologically plausible brain-inspired decision-making SNN model and achieves human-like learning ability on the Flappy bird game and has the ability to support online decision-making for UAVs, enabling Drosophila-inspired linear and nonlinear decision making and reversal learning.
The Spiking-DQN model built on BrainCog implements a combination of deep SNN and reinforcement learning and achieves better performance compared with traditional DQN model on Atari games.
Motor Control
BrainCog has preliminarily implemented control of the motion of humanoid robots by spiking neural network.
Inspired by the brain motor control mechanism, we construct a multi-brain areas coordinated robot motor SNN model that incorporates premotor cortex (PMC), supplementary motor area (SMA), basal ganglia and cerebellar functions, and apply to a humanoid robot playing the piano.
Knowledge Representation and Reasoning
BrainCog performs knowledge representation and reasoning by incorporating multi-neural plasticity and population coding mechanisms.
Brain-inspired music memory and stylistic composition SNN model achieves knowledge representation and memory of musical note sequences, and can generate melody with different styles. Sequence Production SNN achieves the representation and memory of symbol sequences and can reconstruct symbol sequences according to different rules.
Commonsense Knowledge Representation Graph SNN encodes the commonsense knowledge base into a SNN, whereby the network can complete conceptual knowledge generation and other cognitive tasks. Causal Reasoning SNN encodes causal graphs into SNN, and realizes cognitive tasks such as deductive reasoning and abductive reasoning.
Social Cognition
BrainCog implements a biologically plausible brain-inspired social cognitive spiking neural network model.
This model gives the agent a preliminary ability to perceive and understand itself and others and can enable the robots to pass the multi-robots mirror self-recognition test, and help other agents avoid potential risks.
The former is a classic experiment of self-perception in social cognition, and the latter is a variation and application of the theory of mind experiment in social cognition.